Happy 10th Bloggoversary to Art Predator!
November 6, 2017
On Saturday November 4, 2007, on the night of the time change, I started this blog.
One year later, in 2008, I was blogging on Wine Predator and attended the first Wine Bloggers Conference which I reported on here.
And two years later, in 2009, I was in Portugal as a wine blogger.
In 2010, I was speaking at the California Governor's Conference on Women.
In 2011, I spoke at the International Food Bloggers Conference.
In 2012, I spoke at the Wine Bloggers Conference in Portland.
In 2013, I traveled in Washington and Canada as a wine blogger.
And more!
It's been quite a journey!
Readers love it when I write about Burning Man, but also they come here to learn about this song (almost 6k views in 2017 alone!).
I've also written about various festivals, and I provided a platform for Ron Wells and Grant to write about their passions in music and politics.
Overall, at this point I've published almost 1850 posts and gathered almost 700k views.
Thank you for joining me on this journey!
ABOUT THE ARTIST:
​​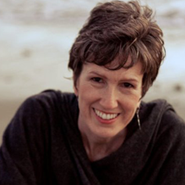 Leslie Rinchen-Wongmo is caretaker of a tradition.
One of the only westerners trained in the rare Buddhist art of silk applique thangkas, she is passionate about the preservation and evolution of this Tibetan cultural tradition. His Holiness the Dalai Lama gave his blessings to Leslie's work and encouraged her to make images that speak to the spiritual aspirations of people across religions and cultures.Leslie's work is simultaneously traditional and contemporary, and her fascinating story is the subject of the acclaimed documentary film, Creating Buddhas: the Making and Meaning of Fabric Thangkas. Leslie mentors a select group of students around the world through her Stitching Buddhas Virtual Apprentice Program, and her Weekly Wake-ups provide a thread of inspiration to set your week on the path to awakening.